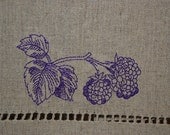 These purple berries (raspberries or blackberries) are stitched on a lovely hemstitched oatmeal colored tea towel Perfect house warming or hostess gift! The towel is an elegant linen blend towel. Beautiful!
I have a new app for my Seaux Southern business...I am testing it out to see how this will work with my blog.
And this towel makes me want to go blackberry picking!!
Click Here to Visit My Etsy Shop!